PERSISTENT HEADACHE AFTER CEREBELLUM HEMORRHAGE STROKE
Keywords:
Cerebrovascular, Headache, Stroke, Hypertension
Abstract
Cerebrovascular disease is the number one cause of epilepsy in the elderly population. Headaches are relatively common in patients with cerebrovascular disorders. The frequency of stroke-related headaches ranges from 7% to 65% with different types of headaches. The prevalence of persistent post-stroke headaches from 7-23%, with follow-up times ranging from 3 months to 3 years after stroke. Persistent headache in the population was associated with high depression and fatigue scores and significantly impacted returning to work. Most headaches at stroke onset will resolve, persistent headaches are a real entity even years after the stroke. The mechanism that might explain the relationship between headache and hemorrhagic stroke is still unclear, including changes in blood vessel walls supported by endothelial dysfunction in migraine sufferers as well as comorbid vascular risk factors such as arterial hypertension or platelet dysfunction. Headache after stroke intracerebral hemorrhage is believed to be the result of vasoconstriction that causes ischemia of the vessel wall.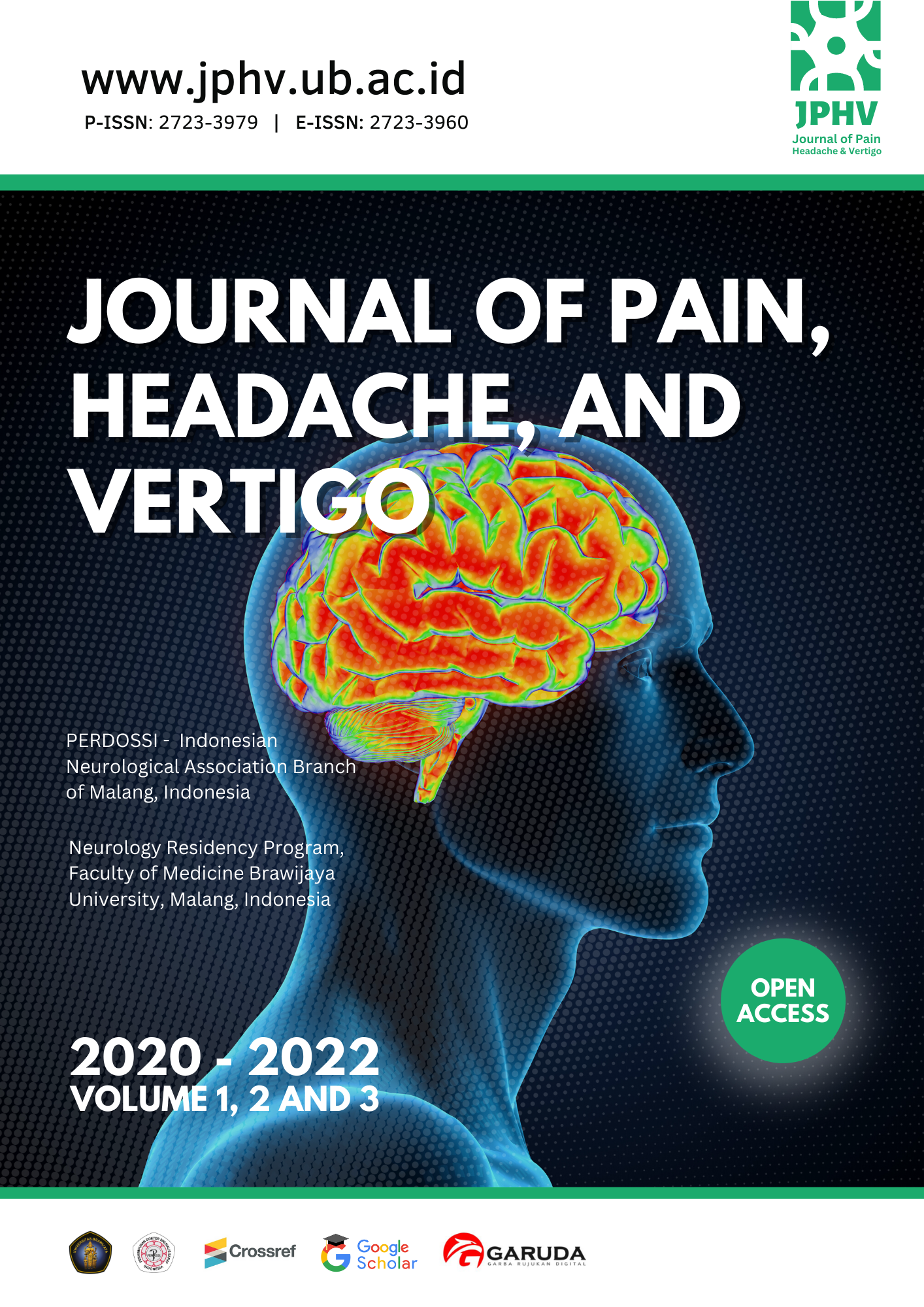 Downloads
How to Cite
Sanjaya, N. ., & Nandar Kurniawan, S. . (2022). PERSISTENT HEADACHE AFTER CEREBELLUM HEMORRHAGE STROKE. Journal of Pain, Headache and Vertigo, 3(2), 44–49. https://doi.org/10.21776/ub.jphv.2022.003.02.4
License
Copyright (c) 2022 Journal of Pain, Headache and Vertigo
This work is licensed under a Creative Commons Attribution-NonCommercial 4.0 International License.
This work is licensed under a 
Creative Commons Attribution-NonCommercial 4.0 International License