ACUPRESSURE AS METHOD FOR REDUCING HEAD PAIN IN TENSION TYPE HEADACHE: CASE REPORT
Abstract
Background: Acupressure is a method that can reduce or eliminate headaches without using drugs. It works by stimulating certain points through pressure / massage on the surface of the body by using fingers or blunt objects for fitness purposes or to relieve pain in tension headaches. Tension type headache (TTH) is the most common headache that tends to be considered not serious because it causes mild symptoms in some cases. TTH is a pain that is felt in the back of the head (occipitalis) and in the front (frontalis) which is tense due to the permanent contraction of the muscles of the scalp, forehead and neck accompanied by extracranial vasoconstriction that can persist for a certain period of time. Benefits of acupressure can calm the nerves caused by discomforts such as tension which is common in tension headache.
Summary of case: A 37-year-old woman presented with headaches that is described as being tied to a rope around her head and heavy in the neck area since a week ago. She is diagnosed with tension type headaches and received doctor's treatment. However, headaches are still felt sometimes when she has a lot of thoughts. Acupressure through suppression and massage has been done as a non-pharmacological treatment to reduce the patient's headache at the acupressure point for one week in 10 minutes each session, showing a decrease in pain intensity through VAS (Visual Analogue Scale) decreased pain rate from 6 to 2 after acupressure. She experienced an improvement and decreased intensity of headache attacks after undergoing acupressure.
Conclusion: Acupressure can be an alternative and complementary therapy to reduce the intensity and frequency of tension type headache attacks
Keyword : Acupressure, tension type headache, complementary therapy.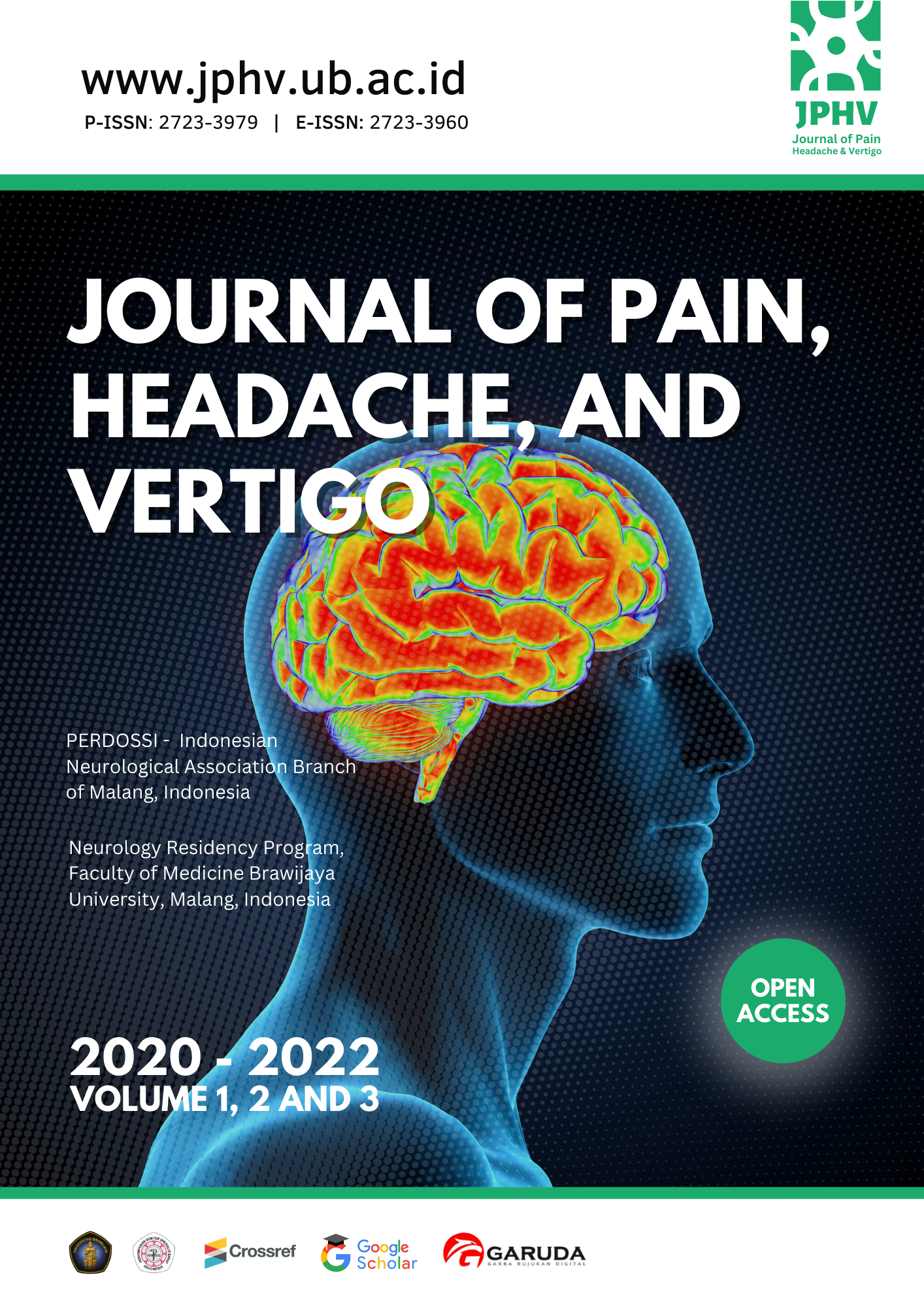 Downloads
How to Cite
Suaib, W. R., & Kurniawan, S. N. . (2022). ACUPRESSURE AS METHOD FOR REDUCING HEAD PAIN IN TENSION TYPE HEADACHE: CASE REPORT. Journal of Pain, Headache and Vertigo, 3(1), 12–17. https://doi.org/10.21776/ub.jphv.2022.003.01.3
License
Copyright (c) 2022 Journal of Pain, Headache and Vertigo
This work is licensed under a Creative Commons Attribution-NonCommercial 4.0 International License.
This work is licensed under a 
Creative Commons Attribution-NonCommercial 4.0 International License