COMPARISON OF HYDRODISECTION INJECTION BETWEEN TRIAMCINOLONE ACETONIDE VERSUS DEXAMETHASONE IN CARPAL TUNNEL SYNDROME
Keywords:
Carpal tunnel syndrome, hydrodisection, dexamethasone, triamcinolone, NRS, FSS, SSS, BCTQ
Abstract
Background: Carpal tunnel syndrome (CTS) is the most common nontraumatic peripheral neuropathy, which is caused by suppression of the median nerve below the transverse carpi ligament. Local corticosteroid injection is considered the fastest and most effective method for improving symptoms that occur in CTS. There are several corticosteroid agents that can be used, but there are no objective standards that can explain the most ideal drugs. Objective: To compare the effectiveness of hydrodisection injection therapy of triamcinolone acetonide versus dexamethasone on carpal tunnel syndrome. Methods: This study involved 30 participants who were diagnosed with CTS and fulfilled the inclusion criteria and no exclusion criteria were obtained. Participants were divided into two treatment groups; the first group (n = 15) injected with Triamcinolone Acetonide (TCA) 10mg / 1ml and lidocaine 1% 1 ml and the second group (n = 15) injected with Dexamethasone 4mg / 0.8ml and lidocaine 1% 1 ml. The NRS, FSS, and SSS parameters were assessed before injection and 4 weeks after injection in each agent. Then compared these parameters at 4 weeks after injection compared to the TCA group with the dexamethasone group. Results: NRS score before and 4 weeks after TCA injection (sig 0.000; p <0.05), SSS (sig 0.001; p <0.05) and FSS (sig 0.020; p <0.05), and NRS score before and 4 weeks after dexamethasone injection (sig 0.001; p <0.05), SSS (sig 0,000; p <0.05) and FSS (sig 0,000; p <0.05). At 4 weeks after injection of TCA compared to dexamethasone there were no significant results on NRS (sig 0.237; p> 0.05) and FSS (sig 0.119; p> 0.05), while SSS values were significantly different (sig 0.027; p <0.05). Conclusion: Significant improvement in NRS, FSS and SSS score was obtained at 4 weeks after hydrodisection injection, both with TCA and dexamethasone. At 4 weeks after TCA injection compared to dexamethasone, there were no significant differences in NRS and FSS scores, whereas SSS score differed significantly. Both injection agents are equally effective in treating CTS, but dexamethasone produces a better improvement in SSS score.
References
KNI Perdossi. Buku Modul Induk Gangguan Saraf perifer, Gangguan Saraf Otonom, Gangguan Paut Saraf-Otot. Indonesia; 2009.
Laillya N. Neurology in daily parctice. Edisi 1. Fakultas Kedokteran Universitas Padjajaran. Bandung; 2010.
Duncan SFM, and Kakinoki R. Carpal tunnel syndrome and related median neuropathies. Springer; 2017.
DOI: 10.1007/978-3-319-57010-5.
Aroori S, and Spence RAJ. Carpal Tunnel Syndrome. The Ulster Medical Journal; 2008. 77(1), pp. 6–17.
DOI: 10.1136/bmj.39282.623553.AD.
Chen PC, Chuang CH, Tu YK, et al. A bayesian network meta-analysis: Comparing the clinical effectiveness of local corticosteroid injections using different treatment strategies for carpal tunnel syndrome. BMC Musculoskeletal Disorders; 2015. 16 (1), p. 363.
DOI: 10.1186/s12891-015-0815-8.
Martins RS, and Siqueira MG. Conservative therapeutic management of carpal tunnel syndrome. Arquivos de Neuro-Psiquiatria; 2017. 75 (11), pp. 819–824.
DOI: 10.1590/0004-282x20170152.
MacMahon PJ, Shelly MJ, Scholz D, et al. Injectable corticosteroid preparations : An embolic risk assessment by static and dynamic microscopic analysis. Am J Neuroradiol; 2011. 32: 1830 –35.
DOI: 10.3174/ajnr.A2656.
Shakir A, Ma V, and Mehta B. Comparison of pain score reduction using triamcinolone versus dexamethasone in cervical transforaminal epidural steroid injection. Am J Phys Med Rehabil; 2013. 92 (9) : 768 - 775.
DOI: 10.1097/PHM.0b013e318282c9f2
Makhlouf T, Emil NS, Sibbit WL, et al. Outcomes and cost-effectiveness of carpal tunnel injections using sonographic needle guidance. Clinical Rheumatology; 2014. 33(6), pp. 849–858. DOI: 10.1007/s10067-013-2438-5.
Lee JY, Park Y, Park KD, et al. Effectiveness of ultrasound-guided carpal tunnel injection using in-plane ulnar approach. Medicine Journal; 2014. Dec; 93(29) pp. 1–6. DOI: 10.1097/MD.0000000000000350
Moghtaderi AR, Moghdateri N, and Loghmani A. Evaluating the effectiveness of local dexamethasone injection in pregnant women with carpal tunnel syndrome. Journal of Research in Medical Sciences; 2011. May; 16 (5), pp. 687–690. Available from: https://pubmed.ncbi.nlm.nih.gov/22091293/
Ring D, Calderon SL, Shin R, et al. A Prospective randomized controlled trial of injection of dexamethasone versus triamcinolone for idiopatic trigger finger. J Hand Surg. Elsevier; 2008. 33A:516 - 522. DOI: 10.1016/j.jhsa.2008.01.001
Santoso WM, Indriyono A, Munir B, Rakhmani AN, Husna M. Comparative of intraarticular injection between dextrose prolotherapy versus triamcinolone acetonide in knee osteoarthritis. Journal of Pain, Headache and Vertigo (JPHV); 2020. 1:22-26.
DOI: https://doi.org/10.21776/ub.jphv.2020.001.02.1
Widodo MS, Andhy I, Badrul M, Alidha NR, Machlusil H. Comparative of intraarticular injection between dextrose prolotherapy versus triamcinolone acetonide in knee osteoarthritis. JPHV, 2020. 1(2):22-26.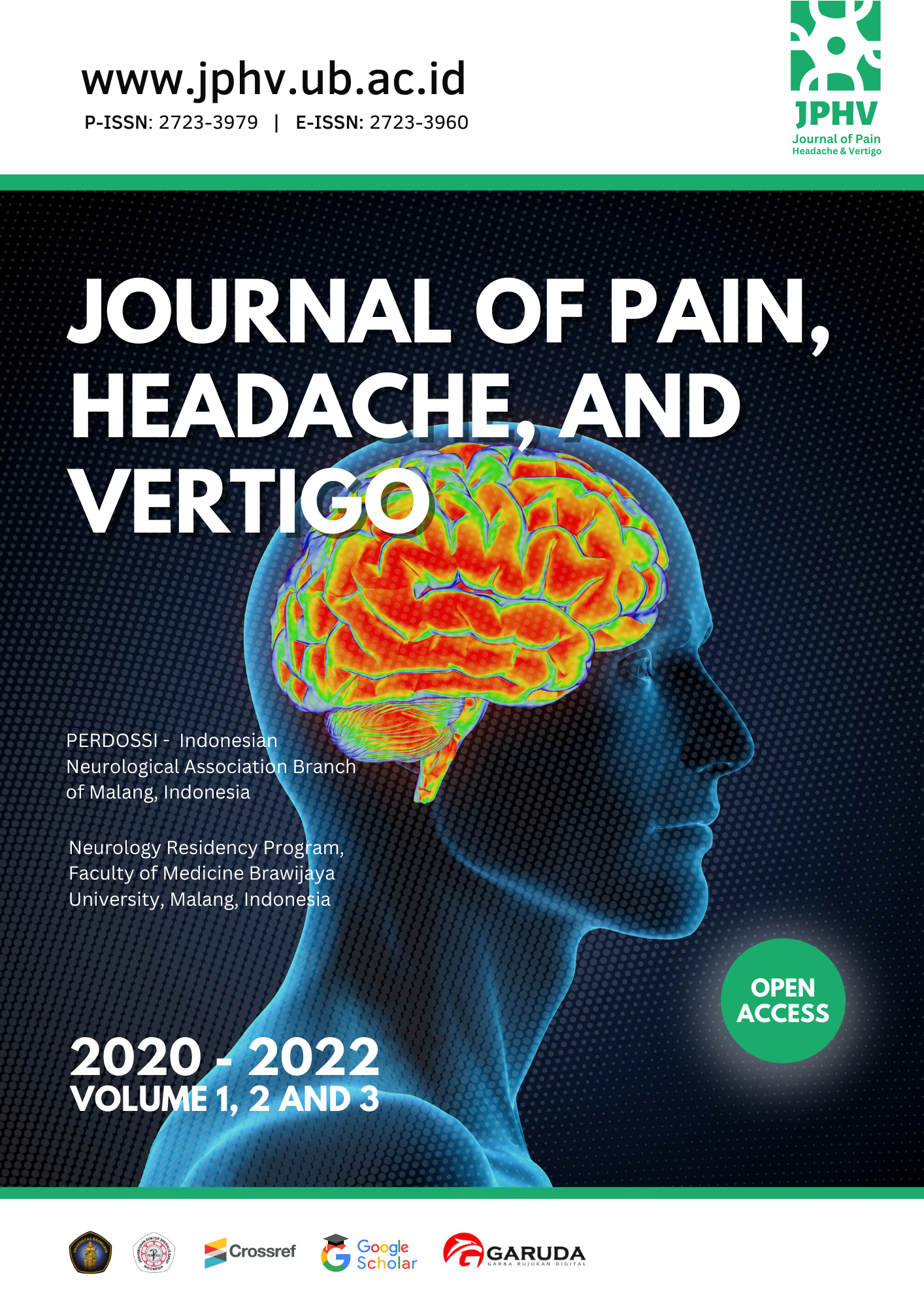 Downloads
How to Cite
Santoso, W. M., Munir, B., Setianto, C. A., Damayanti, R., & Agma, S. (2021). COMPARISON OF HYDRODISECTION INJECTION BETWEEN TRIAMCINOLONE ACETONIDE VERSUS DEXAMETHASONE IN CARPAL TUNNEL SYNDROME. Journal of Pain, Headache and Vertigo, 2(2), 22–27. https://doi.org/10.21776/ub.jphv.2021.002.02.1
License
This work is licensed under a 
Creative Commons Attribution-NonCommercial 4.0 International License