COMPLICATED MIGRAINE
Keywords:
Migraine, aura, prodromal, trigeminovascular system
Abstract
Migraine is a chronic paroxysmal neurological disease characterized by attacks of moderate or severe headache accompanied by reversible neurologic and systemic symptoms. Although not life threatening, migraine can cause disability in the productive population. Migraine sufferers generally have a family history of migraine so that migraine is considered a genetic disease. Endogenous psychological factors such as stress or fatigue are the main triggers for migraine. Migraine pathophysiology involves various parts of the brain so that migraine symptoms are complex. Management of acute migraine can be done pharmacologically and non-pharmacologically. Migraine preventive management is needed if the patient has a chronic migraine or does not respond to abortive treatment.
References
Burstein R, Noseda R, Borsook D. Migrain: Multiple processes, complex pathophysiology. J Neurosci; 2015. 35(17):6619–29.
DOI: 10.1523/JNEUROSCI.0373-15.2015
MacGregor EA. Diagnosing migrain. J Fam Plan Reprod Health Care; 2016. 42(4):280–6.
DOI: 10.1136/jfprhc-2015-101193
D'Antona L, Matharu M. Identifying and managing refractory migrain: Barriers and opportunities? J Headache Pain; 2019. 20(1). DOI: 10.1186/s10194-019-1040-x
Qubty W, Patniyot I. Migrain Pathophysiology. Pediatr Neurol; 2020;107:1–6.
DOI: 10.1016/j.pediatrneurol.2019.12.014
Lanteri-Minet M, Valade D, Geraud G, Lucas C, Donnet A. Revised French guidelines for the diagnosis and management of migrain in adults and children. J Headache Pain; 2014. 15(1):14–29.
DOI: 10.1186/1129-2377-15-2
Puledda F, Messina R, Goadsby PJ. An update on migrain: Current understanding and future directions. J Neurol; 2017. 264(9):2031–9.
DOI: 10.1007/s00415-017-8434-y
Andreou AP, Edvinsson L. Mechanisms of migrain as a chronic evolutive condition. J Headache Pain; 2019. 20(1). DOI: 10.1186/s10194-019-1066-0
Vuralli D, Ayata C, Bolay H. Cognitive dysfunction and migrain. J Headache Pain; 2018. 19(1).
DOI: 10.1186/s10194-018-0933-4
Gilmore B, Michael M. Treatment of acute migrain headache. Am Fam Physician; 2011. 83(3):271–80. Avalaible from:
https://www.aafp.org/afp/2011/0201/p271.html
Green MW, Colman R. Complicated Migrain. Headache Migrain Biol Manag; 2015. 51–60.
Robblee J, Starling AJ. SEEDS for success: Lifestyle management in migrain. Cleve Clin J Med; 2019. 86(11):741–9. DOI: 10.3949/ccjm.86a.19009
Davies PTG, Panayiotopoulos CP. Migrain triggered seizures and epilepsy triggered headache and migrain attacks: A need for re-assessment. J Headache Pain; 2011. 12(3):287–8. DOI: 10.1007/s10194-011-0344-2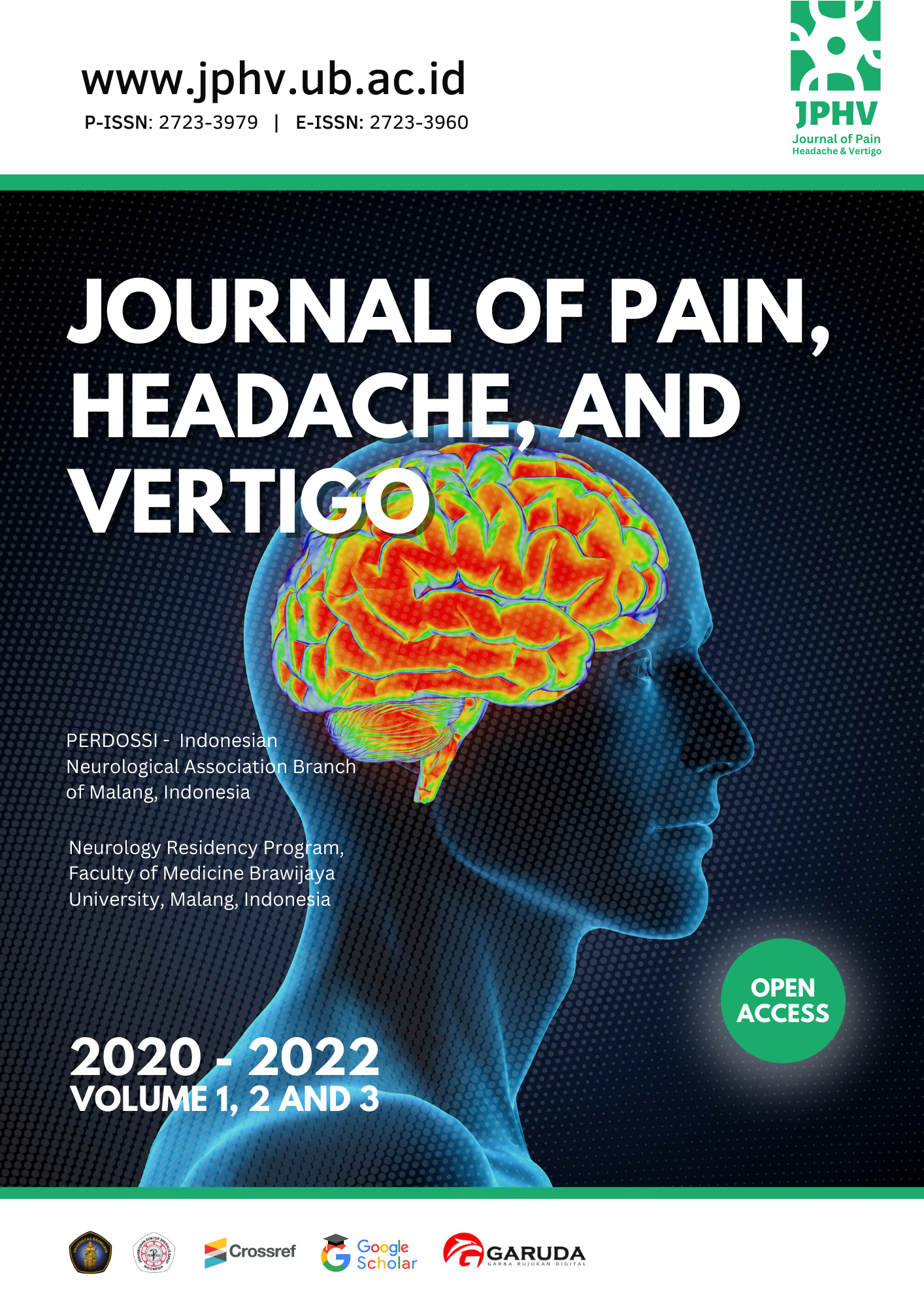 Downloads
How to Cite
Paramita Abyuda, K. P., & Kurniawan, S. N. (2021). COMPLICATED MIGRAINE. Journal of Pain, Headache and Vertigo, 2(2), 28–33. https://doi.org/10.21776/ub.jphv.2021.002.02.2
License
This work is licensed under a 
Creative Commons Attribution-NonCommercial 4.0 International License