CARBAMAZEPINE AS A PAIN TREATMENT OF TRIGEMINAL NEURALGIA
Keywords:
painful, trigeminal neuralgia (TN), carbamazepine (CBZ), IASP, IHS
Abstract
Pain and fear of pain continue to be the commonest and strongest motivation for the patients to seek medical help. Pain is a personal experience of the sufferer that cannot be shared and wholly belongs to the sufferer. Trigeminal neuralgia (NT) is a notable facial pain disorder resulting in periodic severe pain that produces one of the most severe kinds of pain known to mankind. Treatment of this debilitating condition may be varied, ranging from medical to surgical interventions. Anticonvulsant are commonly used for its treatment. One of anticonvulsant drug is carbamazepine (CBZ). This paper will discuss about the efficacy and tolerability of CBZ for the treatment of NT.
References
Al-Quliti KW. Update on neuropathic pain treatment for trigeminal neuralgia: The pharmacological and surgical options. Neurosciences. 2015;20(2):107–114. doi:10.17712/nsj.2015.2.20140501
Narwat A, Sharma V, Bala K. Evaluation of Efficacy and Safety of Pregabalin as an Add on Therapy to Carbamazepine in Patients of Trigeminal Neuralgia. 2018;8(March):78–89.
Hasan S, Khan NI, Sherwani OA, Bhatt V, Asif S. Trigeminal Neuralgia : An Overview Of Literature With Emphasis On Medical Management. Int Res J Pharm. 2012;3(11):235–238.
Frca HKM. Trigeminal neuralgia. 2016;16(April):353–356. doi:10.1093/bjaed/mkw015
Obermann M. Update on the challenges of treating trigeminal neuralgia. 2015:11–17.
Kaur B, Dhir P. Evaluation of the Efficacy of Carbamazepine and Gabapentin in the Management of Trigeminal Neuralgia : A Clinical Study. 2018. doi:10.4103/jiaomr.jiaomr
Stefano G Di, Cruccu ATG. Current and Innovative Pharmacological Options to Treat Typical and Atypical Trigeminal Neuralgia. Drugs. 2018;78(14):1433–1442. doi:10.1007/s40265-018-0964-9
Navya MK, Sujatha GP, Ashok L. Physical and psychological distress - trigeminal neuralgia : A case report. 2017;4:72–75. doi:10.15713/ins.jcri.161
Graduate U, Medicine O, College SD, Subashree R. Medical Management of Trigeminal Neuralgia. 2013;12(2):36–39.
Siniscalchi A, Gallelli L, Avenoso T, Squillace A, Sarro G De. Effects of Carbamazepine / Oxycodone Coadministration in the Treatment of Trigeminal Neuralgia. 2011;45. doi:10.1345/aph.1Q013
Liu S. Original Article A comparative study of efficacy between acupuncture therapy and drug therapy for primary trigeminal neuralgia. 2018;11(8):8544–8549.
Ono Y, Shimo T, Shirafuji Y, Hamada T, Masui M, Obata K, et al. Case Report Drug-Induced Hypersensitivity Syndrome Caused by Carbamazepine Used for the Treatment of Trigeminal Neuralgia. 2016;2016(Figure 2):1–5.
Schatman ME. Phenytoin and carbamazepine in trigeminal neuralgia : marketing-based versus evidence-based treatment. 2017:1663–1666.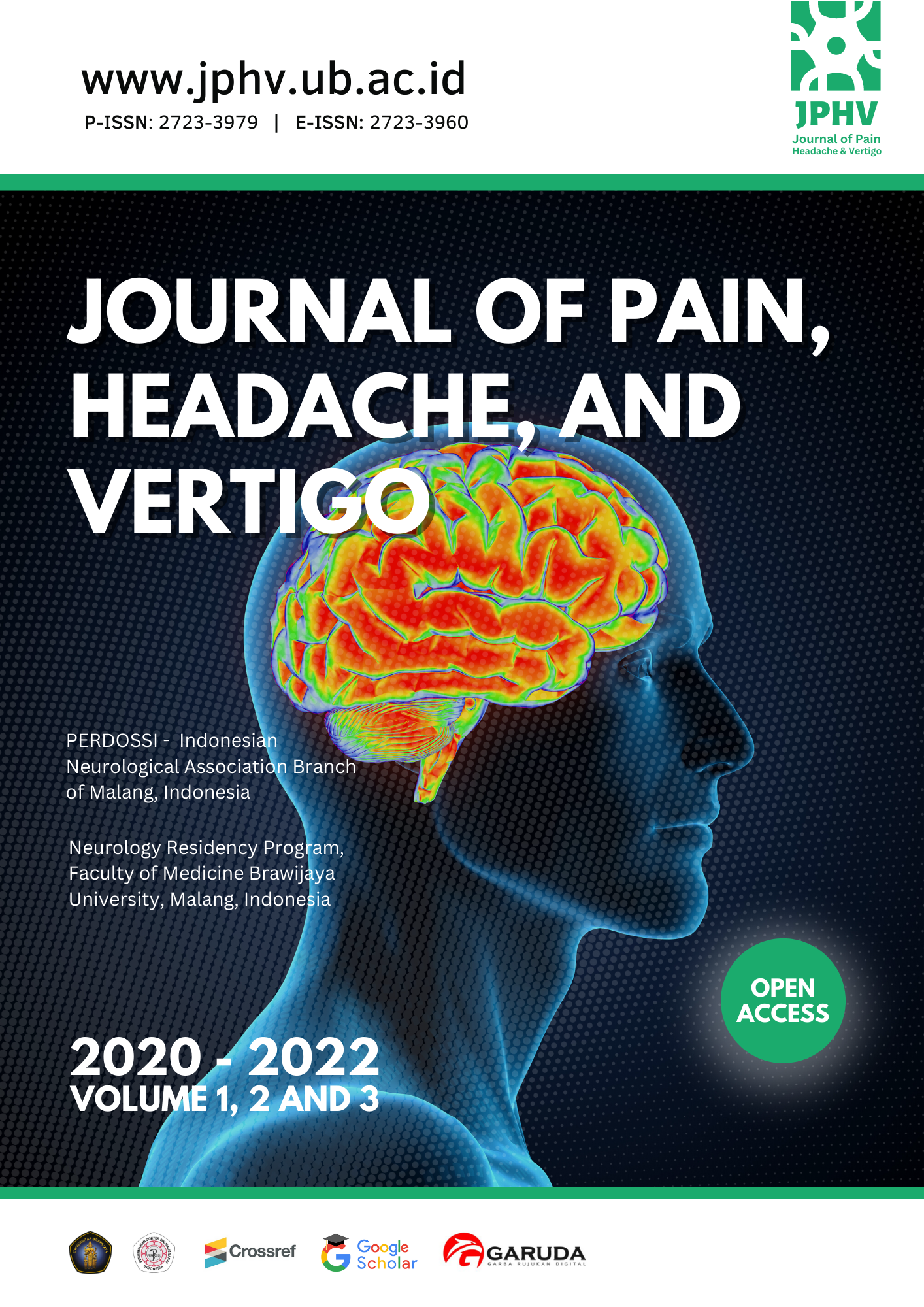 Downloads
How to Cite
Hidayati, H. (2020). CARBAMAZEPINE AS A PAIN TREATMENT OF TRIGEMINAL NEURALGIA. Journal of Pain, Headache and Vertigo, 1(2), 37–41. https://doi.org/10.21776/ub.jphv.2020.001.02.4
License
This work is licensed under a 
Creative Commons Attribution-NonCommercial 4.0 International License